A beautiful, powerful piece of Apple kit that's streets ahead of its rivals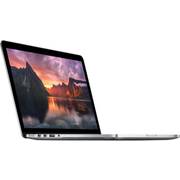 The latest Apple MacBook Pro with Retina Display is a stunning laptop that delivers a powerhouse performance to match or beat most of its rivals. It may look similar to the previous MacBook Pro model, but it's been revamped and improved in every way.
This is the 13-inch version of the MacBook Pro Retina and comes with a dual-core Intel Core i5 2.7 GHz processor, 8 GB of memory, a 128 GB SSD (solid state drive) and Intel Iris graphics. Apple is a byword for great design and the beautiful yet robust brushed metal body houses some serious technology, including a spectacular 4 million pixel display. The 2560 by 1600 resolution is striking indeed, with greatly reduced glare, and produces incredibly detailed, vibrant images with a 178-degree viewing angle. The excellent trackpad utilizes a new piece of tech called Force Touch. This takes the multi-touch concept (such as pinching and swiping to zoom and navigate content) and adds a whole new dimension - now the force of your gestures creates a new layer of options for connecting to your content. The backlit ergonomic keyboard is still a thing of wonder and the battery will last up to an incredible 12 hours.
In terms of connectivity you're looking at one HDMI port, two USB 3.0, two Thunderbolt 2 ports, an SDXC card slot, and a 3.5 mm headphone jack. It's missing an Ethernet socket which shouldn't be a problem at home, but could be tiresome if your office doesn't have a wireless network. With 802.11ac Wi Fi and Bluetooth 4.0 you'll find the MacBook Retina Pro provides a seamless wireless experience.
The MacBook Pro Retina is an incredibly powerful machine that never lags however hard you push it, running the most processor-hungry programs without flinching. It comes with some useful bundled software such as Pages, Numbers, Keynote – essentially Apple's version of Office – as well as Safari, Photos, and iMovie amongst many others. This is without doubt one of the best laptops around and although expensive is actually great value for money considering its power, durability, and broad range of features.
What's hot:
Stunning design and screen
Great features
Incredible battery life
What's not:
Pretty expensive
No DVD drive
No Ethernet port
Why you should buy it: Apple will always have its detractors, but the MacBook Pro Retina is quite simply one of the very best laptops on the UK market. Insanely powerful and packed with features, it's a dream to work with. Start saving up now!