The Vivobook is lightweight, compact and incredible value for money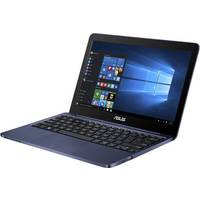 The Asus Vivobook E200HA is an incredibly cheap laptop, weighing next to nothing, and with a massive 13 hour battery life. It's a bit low on processing power, but for the price you won't get much better value in the UK.
The Vivobook is a highly compact 11.6 inch laptop weighing in at just 0.98 kilos. It comes in a variety of colours from black to blue to gold, and the plastic casing is quite easily scratched, so if it's going to see a lot of use we'd recommend buying a sleeve. Despite the scratching issue, the build feels fairly robust, while the 1366 x 768 HD screen looks pretty decent even though it is a bit reflective. The trackpad is fairly robust and satisfying to use; it also comes with 'Smart Gesture' technology - this means you can take greater control of your laptop with a series of different thumb and finger movements, such as pinching to zoom in and out, or swiping to scroll through webpages or images.
In terms of connectivity you'll find a 3.5 mm microphone and headphone jack, one USB 3.0 port, one USB 2.0 port, a micro HDMI port, and finally one microSD card slot. The keyboard is ergonomic and not bad for the price, with the keys a little small but solid.
The battery life really is quite impressive at a considerable 13 hours, but there isn't much juice when it comes to 'engine power'. With an underwhelming 1.44GHz Intel Atom x5 processor and just 2 GB Ram you'll notice cracks appearing if you try to open too many webpages or programs simultaneously. There's also only 32GB storage - less than you get with many smartphones these days. In fact, once you factor in the space used for Windows 10, there's substantially less than advertised, but you do at least get 500 GB of WebStorage space – a useful cloud service. Just remember to transfer files you need from the cloud to the hard drive if you're planning to work offline (e.g. on a plane).
What's hot:
Excellent price
Incredible battery life
Eminently portable
What's not:
Less hard drive space than advertised
Low RAM and processor power
Body easily scratched
Why you should buy it: This is a bare bones laptop and shouldn't be bought by anyone who likes to ride their computers hard. But for the price this is a real steal, and a lot better than most Chromebooks.