A basic, low cost and reliable TomTom that's excellent for getting from A to B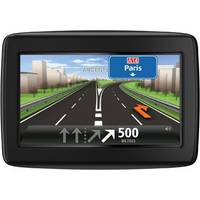 Sometimes it's not enough to rely on a fiddly mobile phone to get you from A to B. The TomTom Start 25 is a low-cost basic satellite navigation unit with a 5-inch screen. Solid and reliable, every motorist should have one.
The Start 25 is TomTom's entry-level sat nav and it doesn't come awash with fancy features. It's available in a variety of different colours and also a small fabric carry bag. There's an inbuilt mount with sucker for attaching to the inside of your windscreen. If the screen is cold it can take quite a few attempts to secure it, but once it takes hold it should withstand even the bumpiest of rides. If the sucker drives you crazy you may prefer to remove the detachable mount entirely.
The menu system is very basic and should be easily understood by even the most technophobic of drivers. There are just two basic icons; 'route planner' and 'return to map'. You can save a number of favourite destinations for one-touch route planning, cycle through recent destinations, or start anew with any address in the UK and Ireland (or beyond if you pay for add-ons). The software isn't very good at guessing incomplete addresses, so be prepared to fill out as much information as you can. You're also able to switch views, mute to volume, alter your journey, and if you happen to take a wrong turn the Start 25 is quick to re-calculate your route.
The maps are bright and easy to read, seamlessly zooming out as you pick up speed to ensure you're always on top of your next turning. If you find any errors it's a simple process to report back to TomTom's servers and there's also a 'Points of Interest' (POI) database if you need to find a cashpoint or petrol station quickly. Unfortunately you can't set waypoints if you're planning on a few stop-offs. You can only program in A to B-style journeys.
What's hot:
Excellent guidance
Simple to program
Nice clean maps
What's not:
Could be louder
Tricky to mount
No live traffic data
Why you should buy it: This is a bare basics TomTom model and not exactly packed with features. However, it will get you from A to B with the minimum of fuss, it's inexpensive, and we recommend it strongly. If you're used to a fiddly smartphone for sat nav, prepare to be pleasantly surprised.