Canon EOS 5D Mark III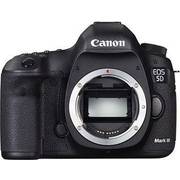 Superb pictures and video, and a solid build, at a reasonable price from Canon.
Seasoned photography enthusiasts will be aware that the Canon EOS 5D series is famed for ground-breaking success in the affordable camera market. While not quite matching the eye-catching "firsts" of its predecessors, the Canon EOS 5D Mark III is nevertheless a great camera, delivering superb quality images and videos without the buyer having to break the bank.
Japanese company Canon has built a world renowned reputation for its high quality cameras, and the EOS 5D Mark III is a worthy addition to their catalogue. This stylish digital SLR camera comes with 22.3 megapixels, a stupendous 61 point autofocus, and full HD video (resolution of 1080 pixels). Would-be hobby photographers often assume that SLR cameras are for professionals and serious enthusiasts only, and are therefore prohibitively expensive. Fortunately this isn't the case. In a nutshell, an SLR will recapture what you see through your camera's viewfinder using an ingenious system of mirrors and prisms. SLRs are well known for the clarity and depth of their imagery and for the huge amount of control the photographer has over the device's settings. Most of the functions require manual input, allowing for unrivalled creative control. A little bit of knowledge is required to get the best out of them, but the rewards are there for all to see – unparalleled quality.
In lighting conditions a standard "point and shoot" camera might struggle to cope with the Canon EOS 5D Mark III captures first class images. With an ISO sensitivity range of 100 - 25,600 this camera can operate in light or dark environments. Should you need it, in extreme conditions, you can even extend this to ISO 102,400, meaning never again having to miss out on a great shot due to poor light.
Life is too short for bad pictures, so why wait to edit your pictures until you get home? With the EOS 5D Mark III you can digitally edit your photos on the go with a simple yet effective display system and in-built editing software. Finally, the Canon EOS 5D Mark III records digital stereo sound at a 48 Khz, meaning you can shoot high quality movies with sound to match.
What's hot:
Incredible image quality
Fantastic at video
Boasts a really strong build
What's not:
No in-built Wi-Fi
Lacking a built-in flash
Complicated AF system
Why you should buy it: This unique camera helps ensure second to none image quality, whether you are at home or on the move. It packs a serious punch in poor lighting conditions and is one the most user-friendly and functional cameras available in the UK.