Canon EOS 7D Mark II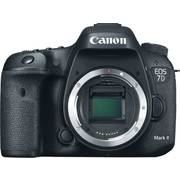 Image depth and crispness are impressive with this top-quality camera.
Canon is rightly considered one of the "big two" in camera technology. And with the Canon EOS 7D MKII the company's hit the bullseye yet again. With a 20MP Dual-Pixel AF CMOS Sensor, 10 FPS continuous shooting with autofocus and a 65 all cross-type autofocus sensor – this is a camera that oozes quality.
There is nothing more frustrating than when you get the perfect picture in your viewfinder, snap it, congratulate yourself, only to find later that lack of light has caused graininess or other noise in the detail of your photos. With a Canon EOS 7D Mark II in hand this will soon become a thing of the past. The Canon EOS 7D MKII produces superlative image quality at an ISO sensitivity of up to ISO 16000, so no matter what the lighting conditions, you'll have the opportunity to take some great photos as you see them and then some.
As an action camera the EOS 7D MKII is in a class by itself. The incredible speed of this model is something to behold in terms of both precision and focus. From the impressive Dual Pixel AF system with 65 cross-type sensors, to the 1/8000 second shutter speed, and two image processors ensuring lightning reactions from your camera when taking photos; this is a camera to quench anyone's need for speed. And with 10 FPS continuous shooting, you'll capture the perfect image, no matter how much movement in your composition.
The Canon EOS 7D MKII comes with Compact Flash (UDMA) and SD (UHS-I) memory card slots which allow for more photo storage but also automatic file backup while you're in the process of recording. Inbuilt GPS also allows you to helpfully stamp the geolocation digitally into the information of each image, meaning never being left scratching your head trying to recall where you took a picture. Meanwhile the larger-capacity LP-E6N battery guarantees an abundance of snaps before it needs recharging.
What's hot:
Great detail at high ISO
Good control layout
10 fps continuous shooting
What's not:
Fixed rear LCD
No built-in Wi-Fi
Not cheap
Why you should buy it: Image quality is of course the most crucial of elements for many when it comes to investing in a new camera, and compared to its predecessor this is an area of improvement, making a very good camera even better. In the UK market the Canon EOS 7D MKII is amongst the very best on offer – providing a near perfect professional standard of sharpness, extraordinary image depth and crispness, all at incredible speed.