Canon EOS 760D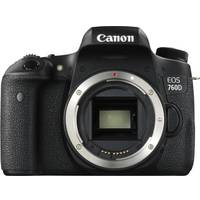 A great entry-level camera that holds its own with some pricier models.
SLR cameras guarantee excellent pictures with a professional finish. Whether you're a serious amateur photographer who wants to take your photography to the next level, or you're a professional photographer who knows that great pictures require a great camera, an SLR should be on your Christmas wish list. And for a good mid-range SLR you'd do well to consider the Canon EOS 760D.
The Canon EOS 760D is the perfect digital SLR for the photography enthusiast; with a fantastic sensor, 24.2 megapixels, 1080p video resolution, and a continuous shooting speed of 5 FPS – there's a lot to like. And it's great value for money – providing superb picture sharpness, for the price of a more basic "point and shoot" camera.
Many UK reviewers featured the EOS 760D in their "Best of 2015" lists, and for good reason. The sensor is top notch, creating impressive image quality, while the vari-angle touchscreen and control layout give the camera a more high-end feel to it than the price justifies. Great quality images can be taken with little input for newcomers to photography, but Canon have also provided a vast array of controls, plus a customisable 19 point AF system, so the semi-pro can still have his or her fun. Full HD videos can be filmed at 30 FPS with wonderful cinematic depth of field. Aspect ratios can be determined simply and quickly and fun filters such as the "Toy Camera" or "Miniature" effects can be applied.
The build quality isn't top level, being largely constructed from plastics rather than the magnesium alloy you find with the most expensive models, but it nevertheless feels good in the hand and is sufficiently robust for the vast majority of needs. Don't try to use it in extreme wet weather however, as it's not waterproof. This is of course extreme nit picking because in almost all other respects this is a fantastic piece of kit. Finally, as with all top cameras these days, you can transfer images to computers, mobiles or tablets wirelessly via WiFi or NFC. Used with a Canon Connect Station (not included), you can also transfer images with a simple tap.
What's hot:
Produces great images
Touchscreen feature
Feels more expensive than it is
What's not:
No 4K video
Viewfinder doesn't cover the whole scene
Not weather sealed
Why you should buy it: Overall, the clarity and depth of imagery plus the excellent control and display system make this camera extremely good value. It is highly recommended for those making their first step up to a Digital SLR.