Canon EOS 750D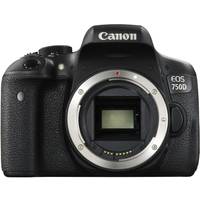 Great features at a very reasonable price - a good all-rounder from Canon.
The Canon 750D is a great all-round camera capable of snapping high-quality images for both beginners and the more experienced photography enthusiasts alike.
The Canon 750D comes with a blazing 24.2 megapixels, while the resolution, detail and subtle nuances of its imagery are a world above your basic entry-level cameras. As a solid midrange model, the 750D delivers excellent high resolution pictures, ensuring sharp image quality and stunning detail. You'll find yourself counting the raindrops after taking pictures during a storm, or marvelling at being able to distinguish individual hairs in the fur of your family cat. The ISO range of the Canon 750D is between 100 to 12,800, ensuring images remain pretty sharp in all kinds of light, although there is a small amount of noise in the upper ranges. This camera can be used both day and night with an intelligent 19-point autofocus that's a real upgrade on its predecessor, while the articulated touchscreen is a great feature of the camera – responsive and with a top notch user interface, it's bright enough to be seen in even direct sunlight.
With the ability to take up to five frames per second, the Canon 750D makes a fine action camera, and the 750D's zoom is truly effective - guaranteeing pictures of impressive clarity with no discernible drop off in quality even from significant distances.
The camera fits snugly in the hand, with an ergonomic rubber grip for stability. It's mainly constructed from plastic but the Canon 750D makes up for that by being very intuitive and simple to operate, while still offering plenty of features for the more advanced photographers. There are a number of pre-set programs, for example for portrait or landscape photography, but if you want to break free and create your own parameters the 750D allows for a lot of control. One of the pleasures of this camera is in finding your own artistic expression by experimenting with white balance, aperture, hours, contrast and many other options. There is also a fun range of filters such as "Oil painting", "Watercolour", "Toy Camera" and "Miniature" amongst other more traditional filter settings.
What's hot:
Great touchscreen
Fast AF
Wi-Fi and NFC
What's not:
Difficult to focus on moving subjects in Live View
Detail and dynamic range could be improved
Viewfinder doesn't offer 100% coverage
Why you should buy it: The Canon 750D comes complete with Wi-Fi and NFC options that allow you to instantly and wirelessly upload your images to another device, but also give you the option to remotely control the camera with your Apple or Android device. The Canon 750D delivers great features for a very reasonable price in the UK.