Nikon D7200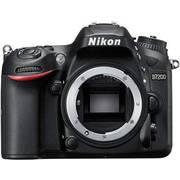 A top-notch, reasonably-priced SLR that delivers on image quality and features.
The Nikon D7200 is an excellent mid-level Digital SLR and quite simply one of the best you can get for the price. A perennial favourite with UK reviewers, it's packed with great features and delivers image quality far above average.
The camera technology in smartphones these days is so good that many of us now call ourselves amateur photographers. If you're one of those mobile users who's perhaps fallen in love with Instagram and whose interest in photography has been well and truly piqued, it might be time for you to take a step up, graduate from taking grainy selfies on your phone, and buy yourself a proper Digital SLR camera. A perfect start would be to get hold of the Nikon D7200. It's a great all-round camera, and although it has plenty to play with for the more advanced amongst you, it can equally be used by absolute beginners.
With a magnesium alloy weather-sealed body, it feels great in the hand and feels even better once you see the quality of your photos. The 51-point autofocus is a huge step up from the D7100, giving you great focus even in poor light, while 1080/60p/50p video recording allows you to shoot very decent films indeed. The Nikon D7200 is certainly easy to use – it's possible to take fantastic photos without ever adjusting the default settings. Beginners or technophobes can set the camera to 'auto' mode, while the more adventurous can experiment with manual settings and gradually learn to know the ins and outs of your camera. And the Nikon D7200 is really worth getting to know, because it can take some quite spectacular pictures.
One of the clear benefits of an SLR is that you can swap lenses. With more than 80 different compatible lenses available to buy in the UK, you'll never run out of options when you want to get serious with your camera. Whether you consider it a positive or a negative, the D7200 is a sturdy, relatively large piece of kit. It looks the business and really gives you something to hold onto for creating perfect, stable images.
What's hot:
Excellent picture quality
Impressive AF
Weatherproof
What's not:
Screen not touch sensitive
Non-tilting screen
Slow burst rate
Why you should buy it: As with so many modern cameras these days the Nikon D7200 is Wi-Fi and NPC compatible; as well as being able to upload images wirelessly to another device, you can trigger the camera with your mobile phone, enabling you to take excellent candid wildlife shots or a well composed selfie.