Looks good and does the basics both simply and well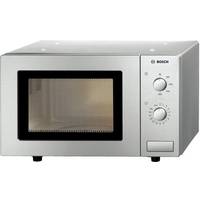 This rather attractive stainless steel offering from Bosch should appeal to those UK shoppers looking for a relatively inexpensive microwave that's simple to operate and superb at defrosting.
The freestanding Bosch HMT72M450B is a great looking piece of kit in its brushed metal casing. It's designed to be easy to use. In fact, it's so easy to use it comes with no auto-programmes or fancy features at all (not even a child-safety lock). It keeps things very simple, with just an open door button and two dials – one for the five power levels, one for the number of minutes. The exterior dimensions are somewhat compact at 46.2 cm (W) x 32 cm (D) x 29 cm (H) and the interior storage capacity is a fairly cramped 17 litres. This leaves you with a glass turntable of 24.5 cm diameter – fine for ready meals in their packaging or small to medium sized plates, but not big enough for many larger plates. Cleaning this model is a breeze, but the glass tray requires a bit of shifting as it almost hugs the floor of the oven.
There are 800 watts of power and this model also has one of the highest ratings for heating speed, although be under no illusion – there are plenty of faster microwave ovens out there. However, once it's warmed up – both literally and figuratively – it maintains temperatures very well, and it defrosts extremely effectively.
Finally, if you suffer from reduced hand strength it's worth noting that the door requires a bit of effort to open and the dials are quite stiff as well. So although the simplicity of this oven's controls makes it a good option for the elderly, the overall stiffness of the door, tray and buttons might rule it out.
What's hot:
Attractive design
Maintains heat well
Very simple to operate
What's not:
Imperfect reheating
Stiff door and buttons
No auto programmes
Why you should buy it: This is a very basic model, but looks great and performs its main job of heating pretty well – especially when required to defrost. It won't cost a fortune and isn't a bad microwave at all. We like it.