Cheap and easy to use with some great features, but does have its downsides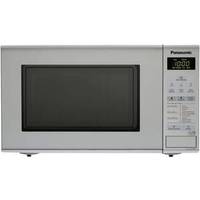 This simple-to-use freestanding microwave from Panasonic is energy efficient and comes with plenty of different cooking options. UK buyers might want to give this a look while doing their shopping research.
Allegedly this silver-finish Panasonic NN-E281MMBPQ has a 20 litre capacity, but in reality, once you factor in the space lost to the glass turntable, it's about half that. It's still big enough for the majority of ready meals, but you'll need to double check your plate sizes before use. The window is also on the small side, and with poor interior lighting it's very difficult to keep an eye on how your food is doing. The interior, lined with acrylic, is extremely easy to wipe clean after use.
The Panasonic NN-E281MMBPQ comes with five main heat settings from 'defrost' at the low end to 'high' at the other. There are also a few handy programmes for heating jacket potatoes, pasta, and curries. To ensure no one messes with your settings there's a useful child lock. There's a handy multi-stage function as well, which allows you to select different auto programmes in stages. For example, you could 'defrost' a ready-made Chinese meal and then seamlessly progress to the 'Chinese' cooking option. If you're unsure what the best setting is there's also an 'Auto weight' programme – simply put your meal on the glass tray, enter its weight on the digital panel, and the microwave will do the rest.
On a negative note, some have noticed a slight drop off in power if you cook meals one after another. In general this model takes longer to cook than advertised, so you'll need to bear this in mind when choosing your heat settings.
What's hot:
Easy to clean
Good energy efficiency
Nice features
What's not:
A bit murky inside
Doesn't heat very quickly
Loses power after one or two uses
Why you should buy it: The Panasonic NN-E281MMBPQ is inexpensive, with a host of great auto-programmes, and energy efficient. But it's also small, murky, and has a few heating problems.