Easy to clean, energy efficient and packed with features, this is a great buy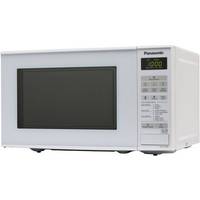 The Panasonic NN-E271WMBPQ is a solid performer – a compact microwave oven that cooks well, comes loaded with features, and won't break the bank.
This freestanding microwave from Panasonic comes in clinical white, with a nice easy-to-read LED display. The outer measurements of the body are 44.3 cm (W) x 34 cm (D) x 25.8 cm (H) and inside you'll find 20 litres of capacity. The glass turntable has a diameter of 25.5 cm which is more than enough for most ready meals in their packaging, but might prove insufficient for larger dinner plates. With quite a dark window and low interior lighting, it's difficult to see what's going on while your food cooks. But the interior has a nice acrylic lining to ensure any spills can be easily wiped clean.
The touch buttons cover various functions including three auto-reheat settings – curry, Chinese and pasta; three auto-defrost settings – jacket potatoes, fresh vegetables and fresh fish; and three auto-cook settings – bread, meat items and meat joints. If you're unsure you can always opt for the auto-weight function, whereby you can just bung in your food, enter its weight, and let the oven do the rest.
The 800 watts of power deliver a satisfying even cook, but it's a bit slow to get going. And if you try to cook consecutive meals you'll notice a reduction in power requiring an increase in cooking times for each meal in turn. Defrost is pretty effective and overall this isn't a bad microwave oven at all – it's even energy efficient, reducing its impact on the environment while cutting your electricity bills.
What's hot:
Simple cleaning
Energy efficient
Good auto-programme features
What's not:
Could heat quicker
Hard to see inside
Loss of power after each use
Why you should buy it: The Panasonic NN-E271WMBPQ is fairly cheap, comes with some useful features, and cooks adequately. UK buyers should definitely consider it for their shortlists.