Cheap to buy and run, this isn't the flashiest model, but decent nonetheless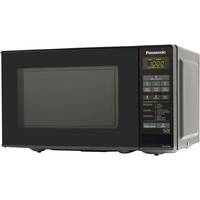 The Panasonic NN-281BMBPQ is an easy-to-use, freestanding microwave with lots of great auto-programme options. It cooks pretty well, but UK buyers should be warned that it's not without its flaws.
The exterior dimensions of this microwave are 43.7 cm (W) x 33.7 cm (D) x 25.8 cm (H). This is the black version of the NN-E281 and in terms of design it doesn't look too shabby, but there are a couple of problems that are immediately noticeable. The first of these is that the door window fails to give a good view of the food inside. The interior is quite dark and although advertised as a 20 litre interior, in reality, once you factor in the 25.5 cm turntable and the lost space underneath, the capacity is probably half that. But the acrylic liners are at least very easily wiped clean.
There are five main heat settings that range from 'defrost' to 'high'. There are nine different programmes to quickly heat curry, Chinese food, pasta, jacket potatoes, and fresh fish; and three auto defrost settings from bread, meat items, to joints of meat. If you're unsure which to go for, you can key in the weight and the oven will determine the optimum heat and time.
The NN-E281BMBPQ heats evenly, but takes its time. It feels slower than comparable models and you'll also find if you use it for heating back to back meals there's a noticeable decrease in its heating ability. You'll need to add extra time to each subsequent cook until it's had time to cool down and reset itself. But to finish on a positive note, this is more energy efficient model than most, so you should save a few pounds by the end of the year.
What's hot:
Cheap to buy and run (energy efficient)
Simple to operate
Easy to clean
What's not:
Could heat faster
Hard to see your food cooking inside
Loses power after each use
Why you should buy it: The Panasonic NN-E281MMBPQ is simple to operate, easy to clean, energy efficient and heats OK. It's small and a bit dark inside, but overall it's not the worst model out there if you want to save a few quid.