Compact, performs brilliantly and boasts masses of features - great value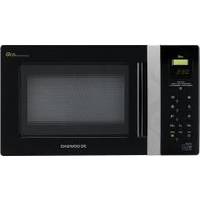 If you're in the UK and looking for an inexpensive, compact microwave that performs brilliantly and comes with some great features – then you'd be crazy not to put the Daewoo KOR6A0R on your wish list.
This fetching black and silver-trim offering from Daewoo has external measurements of 44.6 cm (W) x 33 cm (D) x 27 cm (H) and an internal capacity of 20 litres. It's not the biggest, but by no means is it small, with a 25 cm glass turntable diameter covering all but the larger plate sizes. Despite being relatively cheap the build quality feels quite high end, with solid touch control buttons, an easy-to-read digital display and a pleasing silver door handle. It comes with ten distinct power levels and five standard auto cook settings for bread, soup, baked potatoes, fresh vegetables and frozen vegetables. If you want to get creative you can also build your own auto cook multi-stage programmes. There's a control panel lock to stop children mucking about with your settings or burning themselves; and eco mode to automatically put your oven into extreme standby to save energy. There's also an excellent automatic defrost – whereby you key in the food weight and let the oven take over from there.
The performance of this Daewoo is fantastic. Dual wave technology ensures a thorough, even cook without excessively drying your food, while defrosting is extremely effective in both auto and manual modes. There is a slight loss of power if you do multiple cooks quite quickly one after another – so you will need to leave later objects in longer than advertised. Apart from this the heating is impeccable.
The only other thing to consider is that the KOR6A0R has a power cord of just 88 cm so you'll need to plan where to place it in advance – or invest in an extension lead. It's a minor quibble but something to think about.
What's hot:
Top notch heating
Lots of good auto-programmes
Great value
What's not:
Could be bigger
Short power cord
Loses power after each cook
Why you should buy it: For the price it's difficult to find many more effective microwaves out there. It cooks brilliantly, looks good, and comes with some very useful features.