Nothing fancy, but cheap to buy and run and great at the basics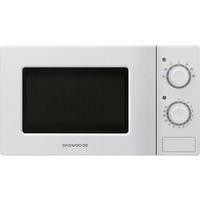 The Daewoo KOR6L77 is an inexpensive, bare bones microwave oven for those who just want their oven to heat well and little else. And in that it succeeds admirably.
Looking clean and business-like in clinical white, the KOR6L77 is a compact model with outer proportions of 44.6 cm (W) x 32.4 cm (D) x 27 cm (H) and an interior capacity of 20 litres. It's on the small side with a glass turntable diameter of 25 cm, meaning it'll cook your ready meals easily enough, but larger dinner plates could be a bit of a squeeze. The interior has a ceramic lining and with no ventilation openings it's extremely easy to clean. Outside, the rudimentary set of controls consists of a push button for opening the door, and two dials; one a timer and the other covering seven basic power settings. Although there isn't an auto-defrost option, manual defrosting is available and works very effectively.
For a one-off cook this oven is excellent. Despite the relatively low 700 watts of power, it heats up food very well and even retains a satisfying degree of moisture, leaving your food about as tasty as it could be. It's also energy efficient, so in the medium to long term you'll save yourself a bit of money. However, like many cheaper microwaves it's subject to the law of diminishing returns and if you cook multiple loads in succession you'll find the power decreasing. To combat this you simply need to add extra time to each cycle.
There are absolutely no bells and whistles here at all. No multi-stage cooking, no auto-programmes, no child locks. Just straightforward, effective heating and defrosting.
What's hot:
Cooks well
Cheap to run
Good value
What's not:
No auto programmes
No fancy features
Loses power during successive cooks
Why you should buy it: UK buyers who want a very simple, low-cost microwave that's durable, solid, and heats well, should seriously consider the Daewoo KOR6L77.