For the money you'll find fewer that cook better or have as many features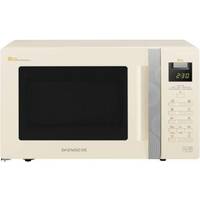 The Daewoo KOR6A0RC is a good-value, slimline microwave that comes with a large number of great features and also cooks tremendously well. If it's not already on your watch list we suggest you add it immediately.
This is the cream version of the KOR6A0R and has external measurements of 44.6 cm (W) x 33 cm (D) x 27 cm (H) and an internal capacity of 20 litres. This is a fairly compact design and you'll struggle to fit in the largest of your dinner plates, although at 25 cm across there are smaller turntables out there. This oven is quite pleasing on the eye. It's controlled with touch buttons and a clear digital display, and is opened with a robust silver door handle. There are ten power levels with five standard auto cook settings covering bread, soup, baked potatoes, fresh vegetables and frozen vegetables. There is even the option to create your own auto-programme, allowing you to build your own multi-stage cook – for example, you could start with a defrost and then segue straight to 'baked potato' mode while you read the paper.
Daewoo's offering has a Zero Standby System whereby after 10 minutes it will switch itself to an extreme standby mode, making it one of the more efficient microwaves on the UK market. In addition to this there's a child-safety lock and a useful auto-defrost. Overall the build is pretty solid and it's hard to nit-pick, although it must be said the 88 cm power cord could leave you scratching your head if your power supply is tantalisingly out of reach.
This is a feature-packed model, but the best part is that is cooks almost to perfection. Meals are heated evenly and without losing moisture – leaving them as tasty as they can be. Like many microwaves you will see some power loss if you cook multiple cycles in quick succession, but this can be overcome by cooking the later meals for a bit longer – a minor inconvenience considering the many positives of the KOR6A0RC.
What's hot:
Cooks brilliantly
Loads of great features
Inexpensive
What's not:
Fairly compact
Power cord could be longer
Loses power with successive cooks
Why you should buy it: This is a great little microwave oven that cooks really well, offers tons of features, and is surprisingly cheap to buy. Thoroughly recommended.