A great, versatile combi microwave with masses of functions and space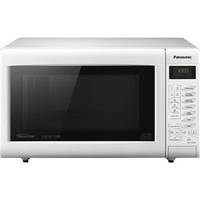 If you're a UK buyer on the hunt for a spacious combination microwave oven, then the Panasonic NN-CT555WBPQ should be on your radar. It heats well, is energy efficient, and can even grill and bake like a conventional oven.
A combination microwave – if you're not in the know – is a microwave that also has some of the properties of a standard gas or electrical oven. The stainless steel Panasonic NN-CT555WBPQ has a microwave, grill and convection oven all rolled into one, providing great versatility in the kitchen. Each feature can be used independently or in conjunction with one another. It has a sizeable 27 litre capacity, despite having compact measurements of 52 cm (W) x 38 cm (D) x 31 cm (H). The diameter of the glass turntable is a very decent 34 cm, which should cover all but the freakishly largest of plates.
There's also a nice simple digital display with solid buttons providing your various cooking options. You can choose from a basic six different power levels and 21 handy auto programmes. There are seven dedicated buttons for quick use, ranging from 'chilled meals', to 'porridge/vegetables', 'fresh fish and chips' to 'pizza', 'jacket potatoes', 'beef' and 'lamb'. There are also a number of different defrosting options, from bread to meat on the bone. There's a multistage function so you can set the oven to defrost first and then seamlessly launch into the relevant auto programme. It also has a child lock to prevent errant hands messing with your settings.
Inverter technology helps this oven defrost and cook quickly and evenly for great results. The oven has 1000 W of power, which makes it super effective at roasting and baking, while the 1300 W grill is supposed to melt cheese and grill toast better than a conventional grill. While the fan oven and microwave are rather brilliant – defrosting and cooking to perfection – the grill is a bit lacklustre. It doesn't seem to penetrate the entire diameter of the tray, leaving some areas insufficiently browned.
What's hot:
Heats quickly and well
Great defrosting
Simple to use, with lots of features
What's not:
Doesn't grill well
Can't do popcorn
More expensive than basic microwaves
Why you should buy it: This is a superb combi microwave, offering oodles of options and great versatility. It's let down by the grill, but in all other areas it excels. If perfect grilling isn't a deal breaker we suggest you give this serious consideration.