A truly superb handheld console with some great games - the best 3DS yet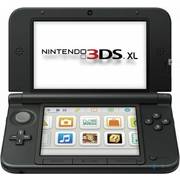 A lot of people out there may be questioning whether handheld gaming has much of a future considering the intense competition from smartphones and tablets. But if you were in any doubt give the Nintendo 3DS XL a few minutes of your time and you'll see those minutes stretching into hours before you know it. This lovely piece of kit proves Nintendo are here for the long term.
The Nintendo 3DS XL is the larger screen version of the 3DS and it comprises two screens – a main display where all the action takes place, and a smaller screen beneath which works as a touch screen for surfing menus and getting online to access Nintendo's eShop (where you can download games and apps). You get 4GB of storage space but this can be upgraded if required, with an SD card slot around the back.
There's a surprisingly large number of awesome game titles to get stuck into, including plenty of timeless classics such as Mario Kart, Super Smash Bros, Super Mario 3D Land, Pokemon, and Zelda – and it has to be said that the 3D element of this console is no mere gimmick. There's practically no cross talk and you'll be amazed by how quickly you'll fall in love with the immersive 3D experience.
There's a great little stylus for more precise use of the touchscreen, and a very decent processor to make loading games and apps an absolute breeze. The New 3DS XL is out at the moment and is marginally more expensive. If you wish to save twenty quid here or there you can opt for the original 3DS XL but you will find fewer colours on screen, no shoulder buttons, no face-tracking for an enhanced 3D experience, only one thumb-stick, and no NFC reader.
What's hot:
3D no mere gimmick
Brilliant games
Great value
What's not:
Missing shoulder buttons
No power adapter
The New 3DS XL is even better and not much more expensive
Why you should buy it: This is a truly awesome little handheld games console from Nintendo that should help you pass the time with a huge smile on your face. However, with the New 3DS XL having been released you might want to spend a bit more to get the latest technology.