Sony Playstation 4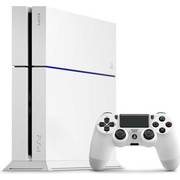 A top-notch console, the graphics and controller are particularly outstanding.
The PlayStation 4 is undoubtedly one of the most popular games consoles and this status is very well deserved. The machine is impeccably designed, fast, and extremely user friendly. While PS4s have traditionally been sold in black, Sony has now made a white version available for the first time in the UK.
A PlayStation 4 can certainly cover all your gaming needs and then some. The incredible processing and graphics power of the PS4 makes this possible, meaning there's almost no limit to what game developers can achieve, leaving them to create the wildest and most beautiful games without having to worry whether the PS4 can handle it. The PS4 has a powerful full-chip processor with an 8-core 64bit x86 CPU. Despite this extraordinary processing clout it's surprisingly quiet.
But the PlayStation 4 can do so much more than just play games – it's a genuine all-round home entertainment system. Switch this machine to the Internet via Wi-Fi or cable and you get access to an app store for downloading all manner of different online streaming services such as Viaplay, Netflix, Amazon Instant Video and HBO. You can browse the Internet, download games from Sony's PlayStation Store, and you can also, with an additional download, play Blu-ray discs and DVD video content.
The machine has a hard drive of 500 GB, providing you with a decent amount of storage space for keeping your downloaded games or movies. The PS4 also comes with a brilliant wireless ergonomic controller with two comfortable rubber thumb sticks and an inbuilt speaker for added immersion while gaming. There's also a vast number of games available for purchase and many exclusive Sony titles such as Bloodborne, Uncharted 4, Final Fantasy XIV: Realm Reborn, and Street Fighter 5. You won't run out of entertainment options with the PS4.
What's hot:
Outstanding graphics
Good-looking console
Excellent controller
What's not:
Not compatible with PS3 games
No 4K Blu-ray player
Optical audio removed
Why you should buy it: The Sony PlayStation 4 is the king of games consoles for good reason. The graphics are incredible, the controller is top notch, and if online gaming is your thing – the PlayStation network will fulfil all your gaming needs.