One of the top all-in-one systems on the market, with some fantastic games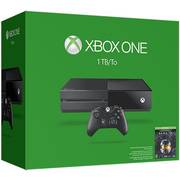 Microsoft's Xbox is synonymous with great gaming but the Xbox One is geared up to be the perfect all-in-one home entertainment system too. Not only does it play stunning state-of-the-art games, but it works as a highly effective Internet TV box, 4K Blu-ray and DVD player.
It's a fairly chunky unit but houses a lot of raw power. The Xbox One has a 1.6 GHz 8-Core processor with 8 GB of system memory. You access its menus (and play games) with a supplied ergonomically-designed Bluetooth controller that's quite brilliant and may be the best 'joystick' every built. Unfortunately if you want to play two-player games you'll have to buy a second controller and they don't come especially cheap. With a 1TB hard drive there's also ample space for downloading and storing games, movies and apps.
The gaming experience is virtually second to none; in fact there's very little to separate the Xbox One and the PS4 – its nearest competitor – in terms of graphics and sound. However, unlike Sony Microsoft haS built in backward compatibility so you can still play your old Microsoft 360 games – which can be extremely handy if you've built up a collection of games and you can't bring yourself to eBay them quite yet. As an Internet set-top box you can plug in your existing cable or satellite service, access menus, watch and pause live TV, and even seamlessly switch back and forth between games, TV, and apps. Practically all the main on-demand services are available, including Netflix and Amazon Instant Video (although not yet BBC iPlayer). You can browse the Internet, make Skype calls, and access a range of great apps from Microsoft's online store. If you want to use your Xbox for Blu-ray and DVD playing the quality is pretty good – although fast action scenes can cause a small amount of juddering.
Microsoft has several new, exclusive games in its library to keep it a step ahead of Sony. Major games such as Forza Motorsport 6, Gears of War: Ultimate Edition, Halo 5: Guardians, and Rise of the Tomb Raider are only available for Xbox One in the UK. Finally, the folk at Microsoft never rest on their laurels, and continuously tweak and make improvements to the Xbox One with their many unobtrusive updates.
What's hot:
Incredible range of games
Genuine all-in-one home entertainment system
Some great exclusive games
What's not:
Bulky design
Expensive
Blu-ray not as good as dedicated Blu-ray player
Why you should buy it: It may be expensive and face an awful lot of competition, but as an all-in-one system you can very effectively kill a few birds with one stone. Non-gamers should probably still stick to standalone devices to save some pennies, however.