Nintendo New 3DS XL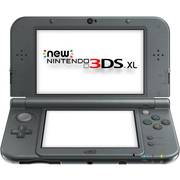 A truly awesome handheld games console which delivers on every front.
These days every smartphone doubles up as a handheld games console, so is there still a market for a dedicated console like the Nintendo? Aren't they just flogging a dead horse by bringing out the 3DS XL? We think not. Nintendo's latest offering is a stunning piece of kit with some awesome entertaining games - and the 3D functionality is no mere gimmick.
The console is made up of two screens – the smaller one at the bottom being a touchscreen for added controls and the larger one at the top being the 3D display. The touchscreen essentially acts as an 'options' screen, but is also a shortcut to the Nintendo eShop for downloading games and apps. There's an inbuilt 4GB of space for downloads and this can be upgraded should you need more space. The New 3DS XL has added two trigger buttons on the rear of the console and a second thumbstick - providing exciting new ways to interact with your apps and games.
The console feels great in the hand and there's a neat stylus for precise interaction with the touchscreen. The display screen has a nice wide viewing angle and 3D games are surprisingly immersive, with scarcely any crosstalk. A head-tracker follows your head movements to optimise the 3D experience. Games like Super Mario 3D Land, Pokemon, Mario Kart, Super Smash Bros and Zelda have never looked so good. There's also a sliding scale for the 3D intensity, from full to off if you prefer a 2D experience. You also get Amiibo compatibility; for the uninitiated an Amiibo is an actual separate toy that can store and share information across multiple Nintendo devices.
Finally, the processor speed is awesome, a major improvement on the old 3DS XL. Loading games and apps is faster than ever and the battery life is decent if not great. The Nintendo 3DS XL without doubt has breathed new life into the handheld concept.
What's hot:
Best version yet of the 3DS
Compatible with all older 3DS games
Lots of great new features
What's not:
Battery life hasn't improved
No power adapter
Difficult to access microSD card
Why you should buy it: This is by far the best handheld games console ever made and Mario has never looked so good. However, if you've already got the 3DS you might want to wait for a later release as the extra expense of upgrading now to the XL might not be justified.