Possibly the best handheld games console there is - feels as good as it plays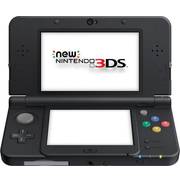 UK buyers looking for an incredible handheld gaming experience should look no further than the New Nintendo 3DS. With great new buttons and an incredibly immersive 3D engine, Nintendo has struck gold.
Nintendo has done a bit of tweaking to make the New 3DS (and the XL version) its greatest handheld achievement. New shoulder buttons and a responsive thumbstick have been added to greatly improve your levels of control and interaction with the console. The screen is split with the larger 3D display up top and a smaller interactive touchpad down below – the latter mainly operating as a rather cool 'options' feature. There's also a neat stylus for further precision interaction. You can download games to your heart's content via Nintendo's eShop and there's a sizeable 4 GB of space for storage. If you wish to insert a third party microSD card for greater memory - be warned it's rather tricky to access. Overall the 3DS feels great in the hands, and that's before you've loaded up a game!
It's a given that some of the greatest games ever made were produced by Nintendo and amazingly they just do not age; Super Mario 3D Land, Pokemon, Mario Kart, and Zelda, to name just a few, look absolutely stunning in 3D. If the 3D is starting to bother you, you can reduce its intensity or switch it off entirely to play in 2D instead. The supplied glasses are needed for a full 3D experience but it's still surprisingly effective without them.
A couple of further tweaks include a faster processor to really give loading times a boost, and the improved processor is also seeing graphics looking better than ever on a Nintendo handheld device. Do yourselves a favour and get a copy of Majora's Mask 3D, the handheld version of N64's all-time classic Zelda adventure to see the 3DS in its full glory. There will only be more and better games on the way. Nintendo really has pushed the boat out, creating the greatest handheld console we've ever seen.
What's hot:
3D is awesome
Great features
Compatible with older 3DS games
What's not:
Battery life could be better
No power adapter
MicroSD card hard to get to for upgrading
Why you should buy it: Whether you're new to handheld gaming or an old stager – Nintendo's New 3DS is a welcome addition and can lay claim to being the greatest handheld console ever.