One of the best consoles and an all-in-one entertainment systems around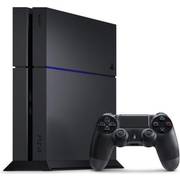 The Sony PlayStation 4 is a next-gen games console that also very effectively doubles up as an internet set top box and Blu-ray player. The price tag is quite high but this is an incredible, feature-heavy piece of kit and a true all-in-one home entertainment system.
The PS4 is 'Mohammed Ali' to the Xbox's 'Smokin' Joe Frazier'. Both are incredible and pack serious power but Sony's machine is sleeker, and looks just that little bit better. With its powerful AMD 64-bit 8-Core "Jaguar" processor and AMD Radeon graphics engine, the PS4 takes gaming to a whole new level. While Microsoft may have a few exclusive games PS4 users shouldn't feel too left out, as Sony has lined up plenty of exclusive releases of its own (including Tomb Raider, Uncharted 4, and Killzone).
Built-in Ethernet and Wi-Fi enable you to not only experience the extraordinarily broad and immersive world of online gaming, but you can also watch the likes of Netflix, Amazon Instant, HBO, DRTV, YouTube and many others – including 4K programmes. The 1TB hard drive gives you plenty of space for downloading games, movies, music and other content. The Blu-ray and DVD player perform admirably – with a highly satisfying picture quality. Unfortunately 4K Blu-ray isn't supported yet, and it's a rare area where the Xbox One has stolen a march.
To interact with your PS4 there is the marvellous DualShock 4 wireless controller, which you can recharge with the supplied USB cable. The DualShock's two analogue sticks give you fantastic precision control, while a built-in speaker in the controller is a nice little bit of attention to detail. For the uninitiated it may take a while learning how to use the controller for accessing your set top box and Blu-ray features. Overall this is a sexy piece of kit that truly is the future of home entertainment.
What's hot:
Gaming (online and off) second to none
Masses of features
Awesome Full HD imagery
What's not:
Missing some on-demand TV channels
Eject button awkward
No 4K Blu-ray player
Why you should buy it: There isn't a better games console in the UK today and with the Playstation's ability to connect online for on-demand TV and play Blu-ray discs, Sony can truly lay claim to having the superlative all-in-one home entertainment system.