A high-performing steam iron that removes creases quickly and effortlessly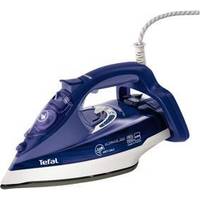 If you're in the UK searching for a powerful iron with an incredible steam performance, and plenty of other great features besides, then you really ought to consider the Tefal Ultimate Anti-Calc FV9630.
This is a lovely looking model with a nice long 2.5 metre cord and a comfortable ergonomic grip. It's a bit on the heavy side at 1.7kg – especially so when the 350 ml tank is full – so if you're looking at a long ironing session you're likely to feel a bit wrist ache. The design, in fetching semi-transparent durable plastic for viewing water levels, incorporates a large heel for added stability and a scratch-resistant soleplate that glides effortlessly.
It has a precision tip and groove for manoeuvring around buttons and other hard-to-reach places; a satisfying steam trigger; auto-off (eight minutes when left vertical or 30 seconds if horizontal); and an effective anti-scale feature which keeps the steamer powerful and extends its lifespan. The descaling design is very smart, allowing you to simply pull out a descaling device, give it a wipe, and pop it back in. The Tefal Ultimate also has an extra-large opening for refilling with water and a handy anti-drip feature.
The performance of the Ultimate Anti-Calc FV9630 is up there with the best. Its basic steam setting of 50g/min is sufficient for most items, but if you want to crank up the power it will pump out 200g/min for those really hard-to-shift creases. It will even work vertically for ironing your curtains. You'll find yourself ploughing through your ironing pile in record time, although as it gets through a fair amount of steam, you will have to make frequent stops for refills.
What's hot:
Removes creases effortlessly
Satisfying glide
Great steam performance
What's not:
May be heavy for some
Button groove a bit high for smaller buttons
Expensive
Why you should buy it: This is an absolutely top-notch effort from Tefal. It's a powerful and effective steamer, ridding your clothes of creases with consummate precision and ease. If you're not worried about the weight then it's thoroughly recommended.