Small, but perfectly formed, this stylish coffee maker will be the star of your kitchen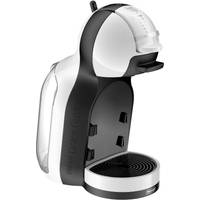 The Dolce Gusto Mini-Me is one of Nestlé's more affordable models, with its small and stylish form, and capable coffee-making abilities. Perfect for a compact kitchen, it's a simple and speedy way to get a great cup of Joe, thanks to Dolce Gusto's huge choice of coffee capsules.
Many of today's coffee makers are on the bulky side, and they often need to be to accommodate an array of fancy features. The Mini-Me is a much simpler piece of kit, however. Weighing a mere 2.5kg, it's the smallest member of the Dolce Gusto family, similar in size to the average-sized kettle. Despite being so compact it's beautifully designed, with a chic, curvaceous form, complimented by a transparent water tank. For style-conscious coffee fans, the Mini-Me is available in a range of attractive finishes, including black, grey, and eye-catching shades of violet and red.
The last thing people want when they're making a morning coffee is to be twiddling with endless settings or navigating complicated LCD menus – that's the kind of stuff you tackle after you've had your coffee. The Mini-Me doesn't like faff either, which is why it's probably one of the simplest coffee makers on the market. Whether you're making a hot or chilled drink, you simply pop your Dolce Gusto capsule into the compartment, flick the switch to your desired setting, and away it goes. Whether it's making coffee or cleaning it out, there's next-to-no effort needed. The only thing you'll have to worry about is choosing which delicious capsule you want to put in it. Despite its size and simplicity, the Mini-Me's surprisingly powerful too. It boasts the same 15-bar pump pressure as many of today's top-end coffee makers, some of which run well into the hundreds of pounds.
Nestlé are the bigwigs behind the best-selling Nescafé, so they certainly know a thing or two about what goes into a good cup of coffee. They offer a wide and affordable choice of Dolce Gusto coffee capsules, which range from Americano and grande lungo, to café au lait and vanilla latte macchiato. There's a variety of pods for avid tea drinkers and hot chocolate fiends too, ensuring the Dolce Gusto Mini-Me keeps everyone happy.
What's hot:
Light and compact
Incredibly simple to use
Makes a whole range of drinks, hot and cold
What's not:
Only works with branded Dolce Gusto pods
Pods can be expensive as you need two for some drinks
Plastic tray can be tricky to move
Why you should buy it: If you like your coffee machines simple, stylish, easy to use and super-compact, then the Mini-Me is for you. It boasts a number of flavour options and can even create iced drinks.