This stylish Sonos speaker takes sound quality to another level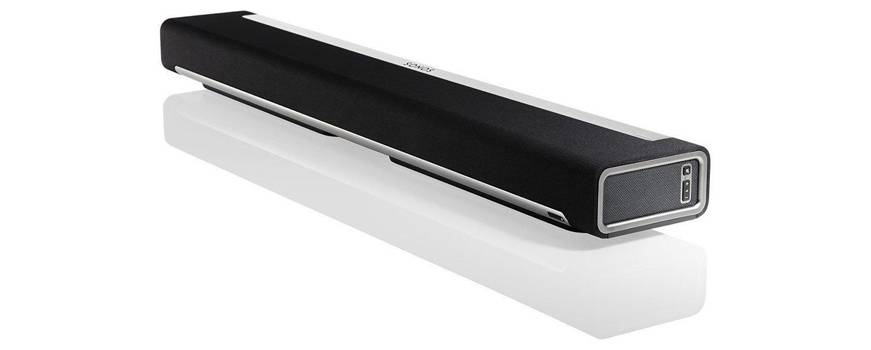 Sonos PLAYBAR is a stylish, minimalist speaker for your home entertainment system that delivers epic, expressive sound. Sonos has garnered a great reputation in the UK, and the PLAYBAR only adds to the feeling that here is a company that means business.
This sleek little unit is a wolf in sheep's clothing. Small and subtle, the delicious Sonos PLAYBAR gives you real bang for your buck, creating waves of dynamic yet refined sound to an extent that belies its diminutive size. The PLAYBAR contains nine active speakers and can fill even the largest of rooms with intense yet detailed acoustics. Its smooth design with an elegant aluminium base and beautiful, black housing makes it fit for even the most fashionable of homes. The flexibility of PLAYBAR means you can place it easily and interchangeably on the floor, the wall or on your television stand.
PLAYBAR is an extremely intelligent audio device, automatically adapting its audio output to your room's acoustics, making up to 24 million calculations per second. One example of its intelligence is the so-called 'accelerometer', a function that registers the placement orientation and adjusts the frequency balance accordingly. Another small but clever touch is the infrared relay that catches your television remote's signal and channels it to the TV's IR sensor, meaning your speaker can never block the signal. You can also train the PLAYBAR's volume control to work with your TV receiver.
PLAYBAR is easy to install via a downloadable phone app, and only requires two cables; a power cord and an optical cable. Just plug it in, sit back, and enjoy the deep, rich sounds emanating from your speaker. The PLAYBAR will play sound from any source connected to your TV, from games consoles and Blu-ray players, to cable or satellite boxes. Fans of movies and television series will find their experience enhanced with incredible, textured acoustics.
If you really want to go to town there is also the option of creating a full-on 5.1 home cinema system by purchasing an additional subwoofer and side speakers. The PLAYBAR is fully upgradeable. Overall the Sonos PLAYBAR comes highly recommended for those who love good sound, great design, and intelligent features.