A reasonably-priced, stylish sound base with plenty of great features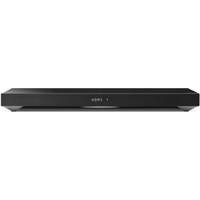 The Sony HT-XT1 is a slimline all-in-one sound base that's reasonably priced and delivers robust audio. If your television is lacking a bit of oomph this could be one for Santa's wish list.
This is a sleek and sexy little model with an inbuilt subwoofer. It has a high-quality scratchproof glass top, a lovely LCD display and touch-sensitive controls - lending it something of a premium feel. It can be used as a TV stand for smaller models (perhaps not significantly over 32 inches) or slid onto a shelf of your TV stand. Connection-wise the HT-XT1 provides three HDMI ports, HDMI ARC, an optical port and a 3.5 mm jack. You also get both Bluetooth and NFC if you want to wirelessly connect a compatible smartphone, tablet or laptop for streaming music.
The elegant remote further adds to the sense that this is an all-round stylish piece of kit. The remote has an overabundance of buttons for total control over your sound base settings. Perhaps too much control for many buyers, but it should delight the technophiles out there.
In terms of sound the HT-X1 is muscular and all-enveloping. There are myriad options to play around with, so we wouldn't recommend this for your grandmother (unless she loves her tech). There are multiple modes from 'movie', 'voice', 'sports', 'night', to 'music' and others, each offering a differing preset calibration of sound settings. Most people find one that's pleasing on the ear to them and stick with it, but you can play around to your heart's content. Across all of these modes, though, the bass notes are rather meaty – perhaps a little too much for some tastes, while the higher ranges are satisfyingly sharp. If there is a weakness in the audio reproduction it's in the mid-range, which feels somewhat neglected, and dialogue sometimes sounds a little thin.
What's hot:
Reasonably priced
Powerful sound
Feature packed
What's not:
Mid range neglected
Confusing array of settings
Non-wall mountable
Why you should buy it: If you're looking for a stylish, economical sound base that's capable of producing some brawny audio and comes absolutely jam-packed with features, this is a very decent option. There are rivals out there in the UK market with superior sound, but the HT-XT1 has its fans.