Top-notch sound quality and stunning design from this German brand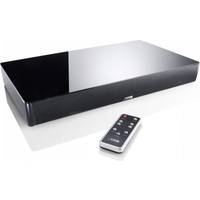 UK buyers who've invested in an awesome television, but find themselves underwhelmed by its tinny inbuilt speakers, might want to check out the powerful Canton DM55 sound base. Transform your television audio from thin to thunderous at the flick of a switch!
Canton has a great reputation for designing serious loudspeakers, and the DM55 doesn't disappoint. The elegant, glass-topped body reeks of quality. Coming with twin subwoofers and two tweeters it projects an incredible open and multi-dimensional sound. The unit is designed to slip under your television and has analogue, optical and coaxial digital inputs – but weirdly no HDMI. It will still work with pretty much every television model out there, but without the convenience of using an HDMI cable. If you wish to place the TV directly onto the DM55 be aware that although fairly robust, it won't appreciate weights over 40 kg – which should be sufficient for all but the largest of models.
Bluetooth streaming is also available to wirelessly play music from your smartphone, tablet or laptop. There's also a nice slimline remote that can be trained to be compatible with your television remote – meaning you won't need multiple devices to adjust the volume.
The sound quality is fantastic – clear and detailed with an awesome dynamic range. There are three preset EQ modes so you can tweak the sound to your tastes. There are surround and stereo modes for watching films or playing music, and a lip sync mode to match the sound with the pictures. The stereo mode keeps things nice and tight whereas surround opens the soundscape up with no loss of integrity. The powerful speakers can withstand up to 94 decibels before you'll start to hear any distortion, which is louder than a Boeing 737 coming in to land. Should be enough volume for any customer.
What's hot:
Superb sound quality
Elegant design
Good features and remote
What's not:
A bit pricey
No HDMI ports
Doesn't conform to energy efficient standards
Why you should buy it: The Canton DM55 is a fantastic piece of kit that will complete your home entertainment system. It looks gorgeous and sounds even better. Go and buy it.