Beats by Dr. Dre Solo2 Wireless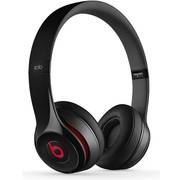 Crystal clear sound from these stylish, wireless, feature-packed headphones.
If you're a true music lover you'll want to take your experience to the next level with an incredible pair of headphones. And 'Beats by Dr. Dre Solo2' delivers in spades, not just faithfully rendering original sound, but adding a whole new epic dimension to it.
Beats by Dr. Dre has established itself as a serious player in the headphones market in recent years. And the Solo2 is a great new addition to the family. As a wireless over-ear model you're not dependent on having to sit close to your computer, television or mobile while listening to the audio, in fact you can comfortably move up to 9 meters and still enjoy the music – meaning you can hum away to your Spotify playlists while cooking in the kitchen, or doze off to a good audiobook while sunbathing in the garden, all the while leaving your sensitive electronics at a safe distance from the frying oil or sun cream.
Beats by Dr. Dre Solo2 comes in several different colours for a customised experience. They're designed to fit pretty much every head shape, and are incredibly comfortable. The materials are of the utmost quality, ensuring virtually no sound leakage or drop-off in quality.
The sound is crystal clear, beautifully balanced and of the highest standards. Do yourself a favour and listen to your favourite albums with these beauties on – you'll hear details you never knew existed. These headphones will grant you the opportunity to enjoy the music as the artists originally intended. Beats By Dr. Dre Solo2 is without doubt right up there with the very best equipment for music lovers, particularly those of you that love a bit of crunching bass. The headphones come with Remote Talk to let you change songs, rewind, pause and even answer calls directly from your smartphone.
What's hot:
Excellent sound isolation
Sound improved from the previous model
Can be used for making mobile phone calls
What's not:
Less comfortable for glasses wearers
Big bass sound isn't for everyone
Pretty expensive
Why you should buy it: Beats By Dr. Dre Solo2 is a product designed by music lovers for music lovers, allowing the user to sit back, relax and enjoy the audio the way it was first recorded. Comfortable, powerful and stylish – UK buyers shouldn't pass up an opportunity to get their hands on this ambitious pair of headphones.