It's all about the bass with these stylish, crisp-sounding headphones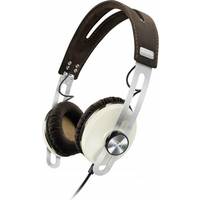 Sennheiser has a fantastic reputation for stylish, precise-sounding headphones, and the awesome Momentum On Ear G M2s do nothing to dent this.
From a design perspective there's a gratifying attention to detail and it's undeniable that these headphones look luxurious and pretty damn desirable. Constructed from the highest-quality materials, these sexy on ear headphones are made from brushed stainless steel and premium leather. The soft ear cups are comfortable and easily adjustable, while the gold-tipped 3.5 mm stereo jack is designed to work inline with mobile devices. However, those of you with larger heads may find the sliders clinging a little uncomfortably to your ears after half an hour or so of use. The detachable cable has an integrated volume control that also lets you switch seamlessly between listening to music and taking phone calls. It's compatible with iPods, iPhones, and iPads if you buy the 'I' model – otherwise owners of Android and other devices must opt for the 'G' model.
A great deal of care has gone into the design of these headphones, but what about the sound quality? Thankfully it's top notch. The audio is extremely well-defined and balanced with the Momentum M2s' inbuilt 18-Ω Neodym transducers. They're bass-heavy though, so if you're not a fan of meaty bass these might not be the headphones for you. Elsewhere in the upper and mid ranges of the sound spectrum there's a truly excellent level of detail and a lovely refined crispness.
The only other point of note is that despite being well insulated, neighbours will still pick up a bit of sound leakage - something to consider when travelling by train.
What's hot:
Beautifully designed
Lovely sound quality
Available for either Apple or Android
What's not:
Overblown bass
A bit tight around the head
Expensive
Why you should buy it: UK buyers will fall in love with the high-quality feel of these headphones, but if you're not overly fond of heavy bass then you should avoid these.