Incredible sound and fit - you'll struggle to find better at this price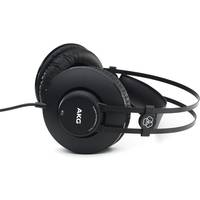 If you're scouting around the UK market looking for a pair of budget over-ear headphones to use at home rather than out and about, then the excellent AKG K52s should definitely be on your birthday wish list. These attractive matte black headphones from AKG have a self-adjusting, one-size-fits-all headband to ensure a great fit, while the lightweight yet durable construction makes for a comfortable wear. They may seem light yet they are still capable of packing whopping 40 mm drivers. The ear cups are breathable and sit very gently while completely encircling your ears. A single cable means minimal opportunities for it to get in your way., iPhones, and iPads if you buy the 'I' model – otherwise owners of Android and other devices must opt for the 'G' model.
The build quality is surprisingly good and certainly doesn't give away the low price tag. The K52s are for home and professional usage; there are no inline controls and they don't fold up for storage, so are clearly of little use when travelling. The closed-back design channels the audio directly to your ears and guarantees little to no sound leakage – leaving you in glorious isolation with your music. The standard supplied jack is 3.5 mm in size and is used for connecting to your smartphone or laptop, but there's also a 6.3mm screw-on adapter for plugging into your audio system.
The sound quality is where these headphones really surprise. The audio is subtle and perfectly balanced, with some taut beats, supple rhythms and beefy bass notes. It's so clear you can shut your eyes and it's not a stretch of the imagination to almost feel you're in the sound studio with the band. A pair of K52s might not be absolute world beaters, but for the price the audio interpretation is extremely gratifying.
What's hot:
Fantastic value
Great audio quality
Robust and nicely designed
What's not:
Not very portable
Great but maybe not "mind-blowing"
Some others look better (but we're clutching at straws here!)
Why you should buy it: The AKG K52 is a genuinely surprising find. It has the design feel of a model twice the price, and the audio quality of a model three times the price! Naturally it comes highly recommended, but remember - this isn't a set of headphones to take out and about.